Amplify Your Message With Advertising Banners!
Let BannersOnTheCheap help you boost your advertising efforts with custom banners! We offer a variety of sizes, materials, and options, so you can customize your banner to your liking. We have years of experience producing and shipping banners to businesses of all sizes, and hope you'll consider us for your banner needs! Whether you're looking for storefront signage, directional banners, grand opening announcements, sale banners, or a unique design for a special occasion, we can be your one-stop shop!
Why Choose BannersOnTheCheap?
At BannersOnTheCheap, we are proud to offer competitive pricing while not skimping on quality. All our products are ready for use out of the box and, with proper care, can be used many times! If you order with us, you'll take advantage of all the following perks:
Full Color Customization Gives You Full Control!
Our online design tool ensures your advertising banner looks exactly the way you want it! We offer a wide variety of templates that can help launch your design, or you can start from scratch and start with a blank slate. Leverage custom text, fonts, clipart and colors to make your banner stand out! There is even an option to upload your own images or logos to further personalize your banner. If you can design it, we can print it!
Outdoor or Indoor Banners - Choose What Works For You
Our advertising banners are available in durable outdoor-ready vinyl, wind friendly mesh, or indoor friendly fabric. Depending on your desired look and usage, there's sure to be an option that works for you. Vinyl banners are best suited for outdoor use, and readily withstand normal weather conditions. If you're planning on advertising in a windy location, our mesh outdoor banner allows strong breezes to pass through to help minimize stress and damage to the banner over time. There are many practical uses for indoor signage and advertising banners as well, and our premium fabric banners are a great option for sleek indoor signage. Check out the "Banner Material" section below for more information on all our material options!
Variety Of Hanging Options Available
Our standard vinyl and premium vinyl banners have several hanging options available. As you move through the design process, you may choose to add Grommets or Clear Tabs to your banner for easy displaying!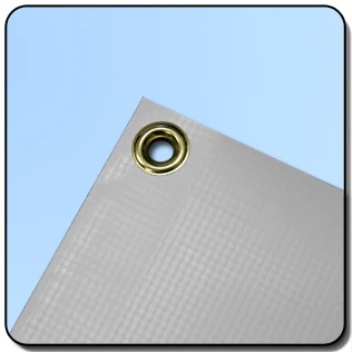 Selecting grommets at checkout will mean your banner comes ready to hang out of the box! Grommets are small brass rings permanently affixed to the sides of your banner. Use bungee cords to tie up your banner on posts, or use the grommets as hanging points for hooks or nails on a wall.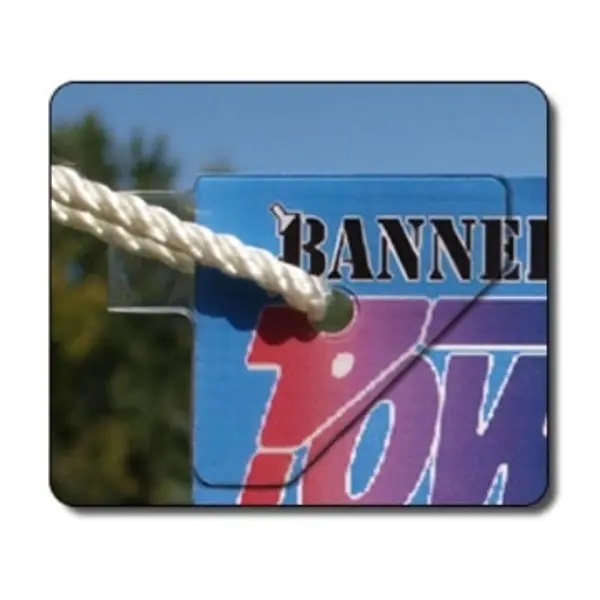 Clear Tabs require application to your banner upon delivery. These transparent tabs will not interfere with your banner's design, and require no fancy tools for application. You can use the outer loop of the tab for indoor hanging, or the inner hole for outdoor display options (does require you to punch a hole through your banner for hanging, as seen in the image).
Shipping To Fit Your Timeline
Sometimes advertising needs pop up quickly, and you need a banner fast! We offer a variety of shipping options available at checkout to fit a variety of turn times. Our standard and rush shipping will deliver via ground, but you can opt to upsell to an Air option if you need your order super fast. Be sure to check the 'Get it by' date for the shipping option you select to ensure it matches when you need your banner. All shipped orders are trackable, and we're sure to update you via email as soon as your order ships!
About Our Banner Materials
Vinyl Banners
Our standard vinyl banners are the most popular of our banner options! Made of durable 13 oz. vinyl, they are a great option for outdoor advertising, but can also be used indoors. With a wide variety of sizes to choose from, be sure to measure the space your banner will be displayed in to choose the best fitting option! We print our vinyl banners with UV inks to help prevent fading over time due to exposure to sunlight.
Premium Vinyl Banners
Another great option for outdoor or indoor advertising is our premium vinyl banner material. The 12 oz. vinyl is a bit lighter than our standard vinyl, but we still expect these to be usable indoors and outdoors. Premium vinyl banners have a smoother appearance, and are the best option available if you plan on your banner being viewed up close. We use UV inks to print our premium vinyl banners, ensuring they stay as colorful and vibrant as possible, even when outside in the sun for extended periods.
Mesh Banners
Our last vinyl banner option is mesh banners. This is the most lightweight banner material we offer, using 9 oz. vinyl. Mesh banners have about 70% printable area and the other 30% of the surface area is reserved for gaps in the material to allow the passage of air. These banners are ideal for hanging in an area that is exposed to wind (for example, a chain link fence) and are much less likely to rip when compared to traditional vinyl banners. As with our other banners, mesh banners will be printed with UV inks to help slow the fading effects of direct sunlight.
Fabric Banners
If you're looking for an indoor banner option, fabric materials look great in any indoor setting. These banners are printed on 6.49 oz. polyester fabric material, and are crease and wrinkle resistant. Our polyester material provides a smooth surface with a slight sheen, and comes hemmed on all four sides with grommets for easy hanging. Fabric banners are machine washable, and we recommend machine wash in cold before line drying if you ever need to wash your banner.