Wow Customers With Our Eye Catching Retractables
Design and create a custom pop up banners with BannersOnTheCheap. Whether you need 1 or 1,000, our full color custom printing will help you convey your message in a fun and exciting way. Stand up banners are a great addition to any trade show booth, storefront, or sales floor. Advertise a sale, a new product, or provide information your customers will find helpful.
Our retractable banners are also ready to travel, and can easily be moved from place to place when fully retracted into their base. While all our stand up banners easily change location, they also look great as the cornerstone of a permanent display. 
Enjoy Fast Printing, Quality Materials, and Fast Delivery
All of BannersOnTheCheap's products are produced custom to your design and unique specifications. We use a digital print method and UV resistant ink to make sure your banner has a long and vibrant life. All retractable banner bases are durable and ready to display right out of the box. Our upgraded Premium Stand provides the most durability, but even our Standard Bases are reliable and long lived with proper care.
At checkout, be sure to keep an eye out for a delivery option that best fits your needs. We offer many options, from Standard to Next Day Air. Our goal is to ship all orders within 24 hours of order placement.
Full Color Printing, Fully Customizable Design
BannersOnTheCheap's online design tool makes it easy to create a stand up banner that fits your needs. You have the choice to upload a fully created design, or start from scratch and leverage text and clipart in our design interface. Not sure where to start? Check out our vast selection of 100% customizable design templates to help kickstart your creativity.
Options for Customizing
Once you have completed the design for your pop up banner, you'll have the opportunity to make additional selections so your new display is exactly as you'd like it.
Our classic retractable banner material is well suited for day to day use, and is durable (when used as expected). Looking for a next level display? Check out our Premium Greyback material. This high end upgraded material reduces the amount of backlighting visible when viewing the banner from the front, and is a great option for those looking to ensure their colors pop.
There is also the opportunity to upgrade your base from our tried and true Standard Stand to our Premium Retractable Banner Stand. Both base options come with a convenient carrying case, but pick the base that speaks to you and your vision.
Are you worried that your design will be lost in the shadows? Upgrade your popuup banner with our Premium LED Display Light. This light will ensure your banner is visible, even in the dimmest of display areas, and doesn't require any tools to assemble. Included with our Premium LED Display Light is a long cord, allowing for convenient power access at tradeshows or conventions.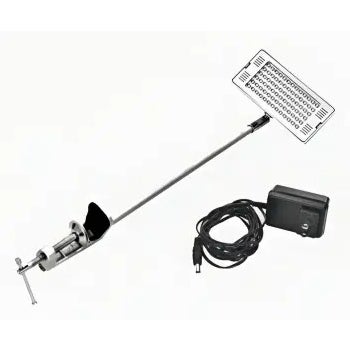 Assembly and Care Instructions
Great news. Your banner will not require any tools to assemble. Choose your base type from the list below to access the correct assembly instructions.
• Standard Base Assembly Instructions
• Professional Base Assembly Instructions
To ensure your banner has the longest lifespan possible, follow these best practices:
• Avoid harsh movements or putting additional strain on the internal mechanisms of your banner base. They are durable, but do not tolerate harsh or sudden movement.
• If your banner becomes dusty, wipe with a dry microfiber cloth.

Product Information
No Assembly Required.
Standard Retractable Base

Economic but durable, our slim Standard Base has stabilizing feet that rotate to provide stability while the banner is on display.Free Carrying Case Included.

Professional Retractable Base

With chrome accents and sleek lines, our Professional Base makes sure your banner looks exceptional while on display.Free Carrying Case Included.
Available Sizes

Banner Material Details
All our retractable banners are printed using UV resistant inks that provide vivid colors while reducing fading due to exposure to the sun. Your design will be printed on a smooth 12oz vinyl and expertly assembled into your selected stand so its ready to go upon delivery. Our quality and price point can't be beat.