Custom Feather Banners
Attract Attention to your Business with a Friendly Wave!
Large format outdoor signage can really help boost your business while providing important information to your customers. Our full color, single or double sided feather banners (also known as feather flags) are a great tool to draw the attention of passing traffic. They're also great to use in a tradeshow setting, or for an event. We've got custom feather banners down to a science, so let us help you get quality custom feather flags for your business or event!
About Our Feather Banner Flags
At BannersOnTheCheap, we want to provide our customers with the best quality products at some of the best price points in the industry. Check out what we offer all our customers when they do business with us:
Choose Options That Fit Your Needs and Vision!
We want your feather banner to fit your exact needs. To accommodate this, we have five size options available! Ranging from 6ft tall all the way up to 15ft tall, there's sure to be an option that fits your vision. These sizes take into account two feet of height provided by the display hardware, also available on our site. We recommend our customers purchase the flag and hardware bundle to ensure maximum performance and compatibility!

If you order your flag hardware from us, we offer two different display options: a ground stake for outdoor use, and a cross base stand for indoor or outdoor use! Both of our display options come with a free carrying case for easy transportation of your feather flag.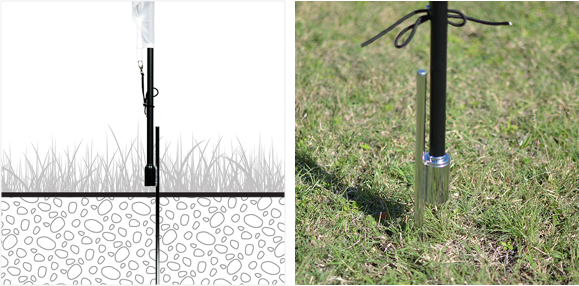 Our ground stake display inserts directly into the soil to give your flag a sturdy base for outdoor display. While your flag will rotate freely on the base with the wind, it will remain anchored in most weather conditions. We recommend you take your feather banner in during inclement weather to prolong its lifespan!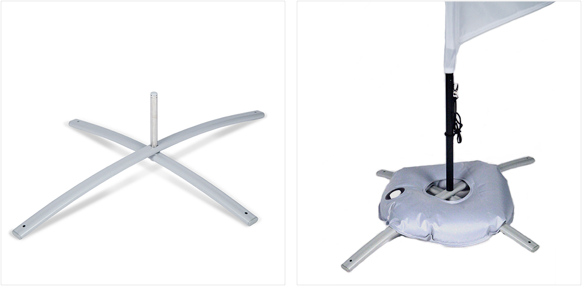 The second display option available for your feather banner is our cross base stand. This is a great option for indoor use or in areas outdoors that will not accommodate a base that needs to be inserted into the ground. An included water weight helps keep your feather flag staple in the breeze, but we do not recommend this base for long term outdoor use or for outdoor use in windy conditions.
Single Or Double Sided, The Choice Is Yours
Depending on your preference, your feather banner can be ordered single or double sided!
Single Sided: your design will be printed on a single sheet of polyester fabric. Due to the semi-transparent nature of our polyester fabric, your design will bleed through to the back of your feather bannr and be slightly visible (about 80% visibility). This is an economical option for those who are not concerned with slight transparency or the one way viewing of a single sided feather banner.
Double Sided: if you decide on a double sided feather banner, your design will be printed on two sheet of polyester material and sewn together with a light blocking fabric in between This ensures your message is visible from both directions, and your design is vibrant no matter which direction it is viewed from.
Fully Customize Your Feather Banner Design
We offer a user friendly online design tool for you to customize your feather flag! You can control text, colors, clipart, and are free to upload your own images to your design. Feel free to give us call if you have any questions during the design process. We'll be happy to help!
Assembly And Care Of Your Feather Banner
Another reason we recommend ordering both your feather banner and display hardware from us, is our hardware requires no tools for assembly! Check out our assembly instructions below:
• Feather Flag/Banner Assembly Instructions
If your feather banner accumulates dirt or dust, feel free to toss it in the washing machine! Use cold water and a normal wash cycle. Once it is washed, it can be dried for 10 minutes in your dryer on a low setting before it is set out to air dry until completely dry. Our feather banner material is wrinkle resistant, but if you need to iron your banner, use a nylon setting. Make sure your feather banner is completely dry before folding or storing!
While we expect your feather banner to be used outdoors and expect them to endure in normal weather conditions, extended exposure to the elements over time will increase the risk of wear and tear to your flag and base. WE recommend taking down your feather banner and hardware during inclement weather and storing it inside until things pass. This will help ensure you can display your feather banner for months (or even years!) with preventative care.